Something exciting happened last week at Bigcommerce. Something that's showing us where eCommerce is going in the future. After Shopify, now any Bigcommerce merchants can sell via the [Pinterest app](https://www.bigcommerce.com/pinterest" target="_blank).
We'll detail below how to proceed, and the requirements to follow. Before going further, please note that this is US only at first. Still, there's plenty to learn about Pinterest so take two minutes to read this.
But first, why Pinterest?
[Pinterest](www.pinterest.com" target="_blank) is a major social media platform. You may not be using it, but 100 million monthly users are. Pinterest "allows people to get close to brands, products, and people that inspire them." according to [Buffer](https://blog.bufferapp.com/pinterest-growth" target="_blank)
Pinterest is perfect for eCommerce. Here's why:
Anyone on Pinterest can find what they're looking for and make a few discoveries along the way.
What stands this social media apart from the other platforms are:
design - look at the boards, images, and videos, it's beautiful
pins and the art of "pinning" (or posting if you prefer)
infinite scrolling
They do everything they can to make the users addicted to it. 100 million monthly active users and growing. It works!
Why do buyable pins matter for your eCommerce?
As mentioned, many users are active on Pinterest. Plus it's the social media platform that suits eCommerce the best.
Buyable pins make it dead easy for a user to buy a product you like.
It opens massive opportunities for brands selling online in the US. Distribution is key for any business. If your products are only one your website, you limit your reach. You may own the channel but you have to rely on different marketing efforts to generate traffic.
Now you can have your items featured on the Pinterest app, and users of the platform can buy them from you. Without reaching first your website.
Here's what it looks like: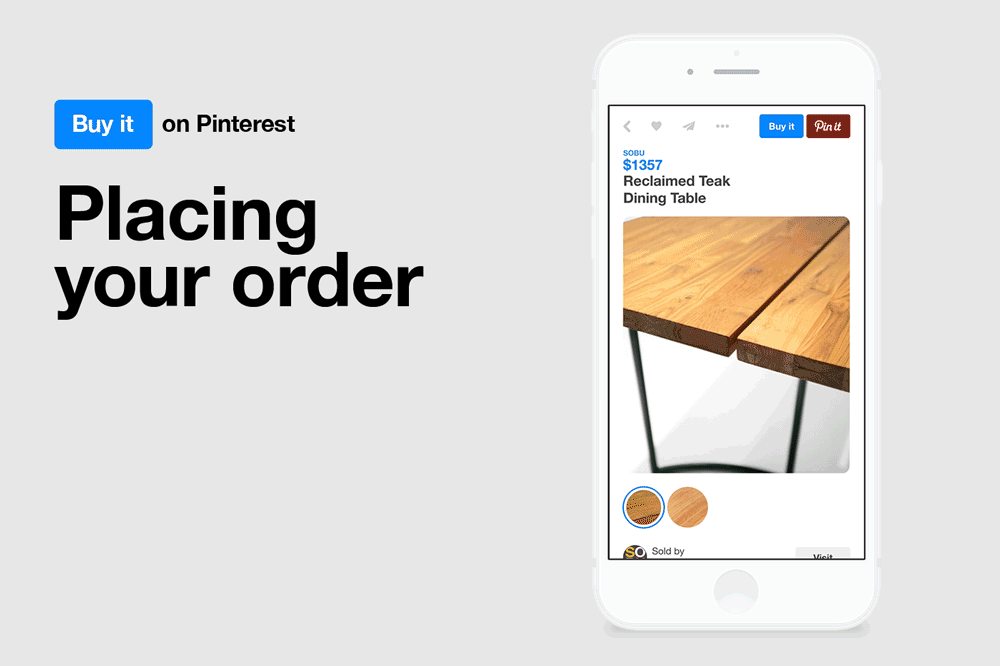 Pretty cool right?
How does it work - links to help you get started
Everything happens in the Pinterest app. Not the website. The app. It's available on iOS and Android.
You have to open a Pinterest business account [here](https://business.pinterest.com/en" target="_blank)
Follow these requirements if you're on [Bigcommerce](https://support.bigcommerce.com/articles/Public/Requirements-for-Pinterest-Buyable-Pins" target="_blank)
If you're on Shopify, read carefully [here](https://help.shopify.com/manual/sell-online/pinterest" target="_blank)
For Magento online store, follow the application [here](http://creatuity.com/magento-pinterest-buyable-pins-for-magento" target="_blank)
Challenge
Before selling on the Pinterest app, ask yourself these questions first:
is my audience on Pinterest?
what value can I provide to Pinterest users?
how can I organise collections and pins to bring value to them?
do I have enough time to build my Pinterest audience?
The problem now is you found another distribution channel for your products. A channel with a lot of traffic, great! The risk now is to lose attention. Your products are now among hundreds of thousands of similar products. How are they different, or better than the competition?
Focus on the audience before. Build your tribe on Pinterest. Then sell. See how FlyAway BlueJay made that [happen](https://business.pinterest.com/en/success-stories/flyaway-bluejay" target="_blank). Or [ModernCitizen](https://business.pinterest.com/en/success-stories/modern-citizen" target="_blank).
Focus on your audience, not on your products. This is a mindset we want you to have. Read [how BOXRAW built their audience on Instagram](https://blog.aftership.com/building-momentum-on-instagram-with-boxraw/" target="_blank).
Try to apply some similar principles for your Pinterest business account.
Conclusion
Pinterest has it all. 100 million monthly active users. A beautiful platform to feature your products. And the technology. If you're based in the US, what are you waiting for?