When we first noticed BOXRAW, we were intrigued.
That's a great name we thought. It's short - just two syllables. It's catchy and it stays. BOXRAW. BOX. RAW. There was something wild about that name, so we checked their website. Then it whole made sense.
Consistency
Consistency is key when you plan to launch your brand.
Practise makes perfect they say. Practise is mandatory for all boxers, the same goes for any entrepreneurs out there who want to launch their own brand. You must practise and do it right.
You can feel there was a lot of practise for BOXRAW. You feel it right when you land on their website. Even though the store hasn't launched yet. The atmosphere, the video playing in the background, and the countdown on the landing page. It makes you want to be part of the adventure. And in the end, you just give your email address because you want to be part of it, even though you don't exactly know what this "it" is all about.
Social Media and Instagram Done Right. How to get to +9K followers.
Then we looked at their social media channels. Usually it is a good sign to test whether a new brand is getting some attention. Twitter - and we guess this is not their main focus - was ok for a website that hasn't launched yet. Facebook was better than the average. Instagram was the best. We wanted to know more about how they were tackling. I was not disappointed.
I reached out to Ben, the brain behind BOXRAW to ask him tips on how to build momentum on social media before launching your store.
Here are 5 tips from him focusing on Instagram. 5 tips to potentially lead you to +9,000 Instagram followers before launching your store, if you do it right.
1. "You need to be posting high quality content, both in terms of image quality and relevance to your brand, consistently, at least once a day."
At least once a day. This is hard. But social media is a fast-paced environment where you grab your audience's attention only for a couple of seconds. Showing up every single day is key to build a long-term relationship with them.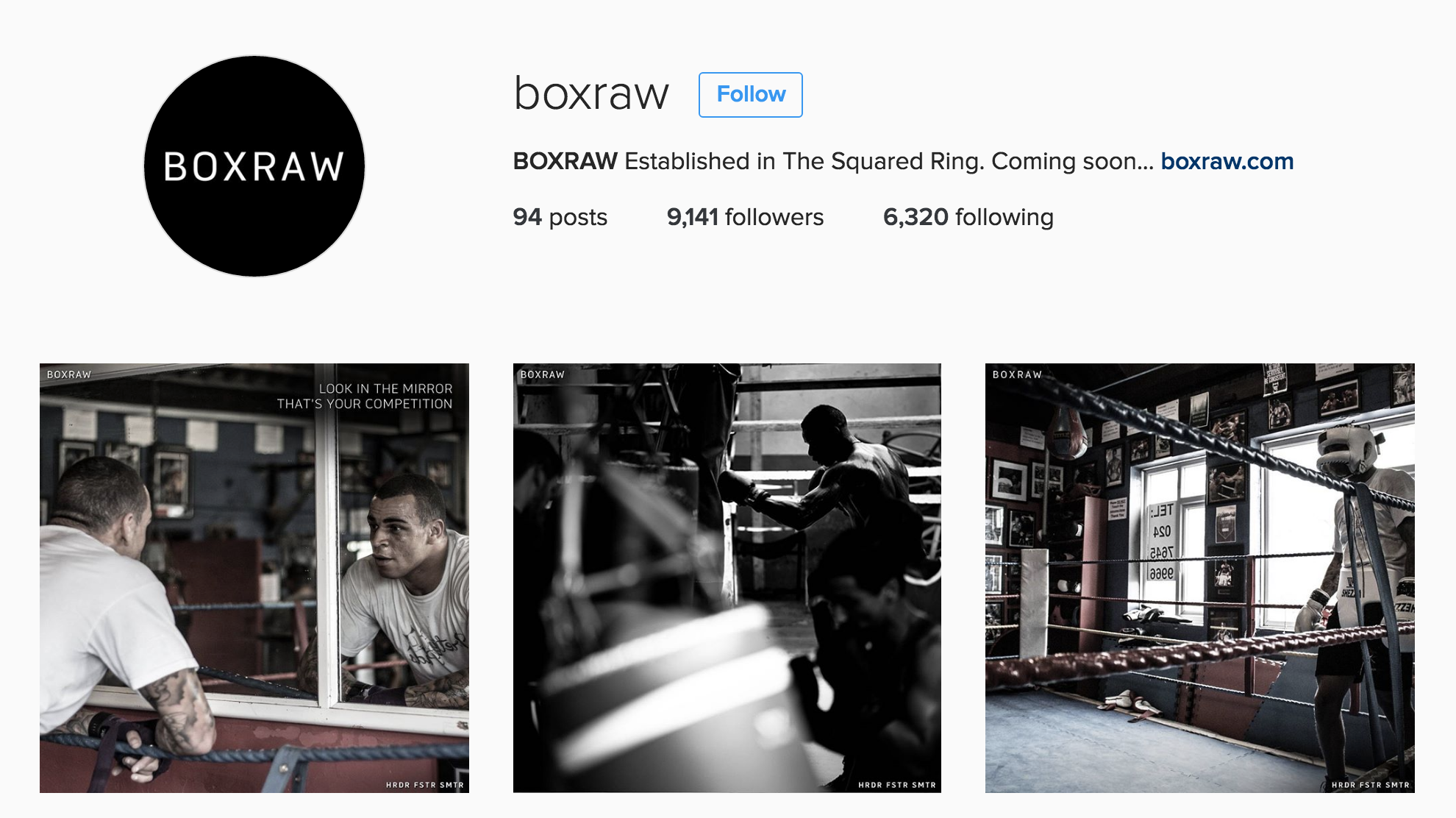 2. "Don't repost other peoples content as it can dilute your content and make sure all your photos are based around your niche so you gain the customers who share your vision."
This is basic but again, when you launch your own brand, you want it to occupy the space. As you start growing, then you can involve other "Instagrammers" and launch contest with a specific hashtag. But before launching your store, stick to your brand to grab your core audience.
3. "HD photos are a must in a world where everyone now owns super clear smart phones."
Stop thinking you can only take Instagram pictures with your smartphone. This is not the case anymore. Some might complain it's ruining the vibes Instagram had when it started. The thing is pictures taken by a camera will always be better than the ones from a smartphone.
4. "Treat the caption section with the same respect as you do the photo"
Inspirational. Which words do you think your audience will most likely relate to? Do you speak their language? When you think of the caption, you have to put yourself into the shoes of your audience. Why would they tag their friends in the comments of your Instagram picture? The caption has to be relevant, short, and motivational. If it encourages someone to do something, or if the caption makes you think you belong to the tribe, then you got it right.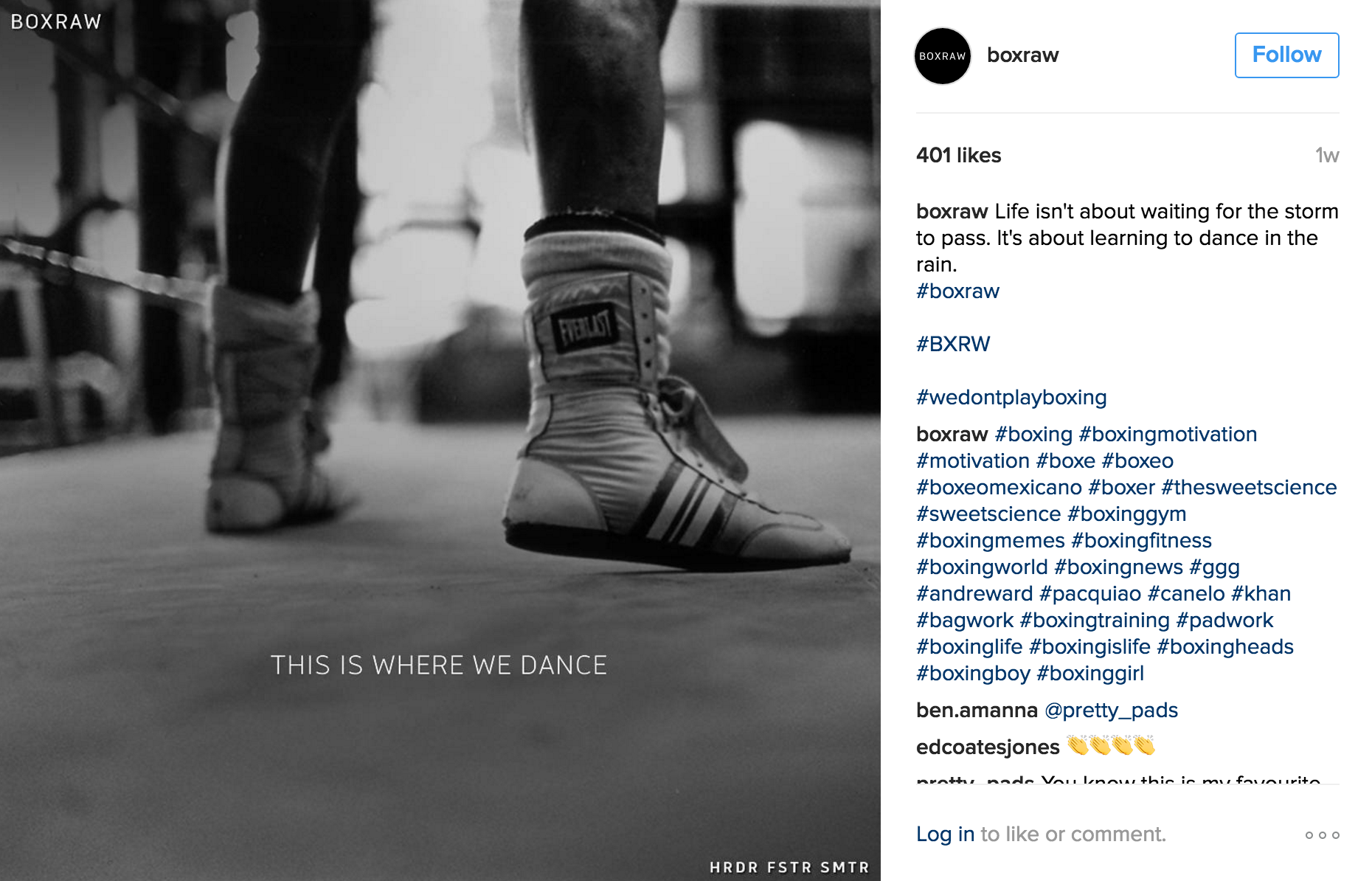 5. "and make sure every so often you include a call-to-action, but not on every post as users will see that as spammy."
This is another must-do for any entrepreneurs out there who wants to nail the social media marketing. Gary Vaynerchuk published a book a couple of years ago called [Jab, Jab, Jab, Right Hook](http://www.amazon.com/Jab-Right-Hook-Story-Social/dp/006227306X" target="_blank) to explain the whole mindset you should implement on social media.
In the case of BOXRAW, you can see it took them dozens of great Instagram images before they drop a right hook (a link to their Snapchat account).
BONUS: Create your own tribe - HRDR, FSTR, SMRTR
Have you noticed? In each picture, there's this message: HRDR, FSTR, SMRTR. Can you guess what it means? The goal here is to create a signature, a motto that's shared with the tribe. Something that relates to everyone who will, like, share, tag their friends on the pictures.
Which brings us back to the consistency of the work behind the brand BOXRAW.
Conclusion
This is not a promotional post. We are not even into boxing. But our goal is to help entrepreneurs succeed with their eCommerce projects. When we have great examples like BOXRAW in front of us, it would be a pity not to share it with our audience.
You can follow BOXRAW on:
And if you are into boxing, check out their website and [sign up](http://www.boxraw.com/" target="_blank) for future updates!
"In a fight, there is a fundamental difference between boxers and everyone else. The guys who have trained are different. If you hit them, they don't flinch."
⎼ Julien Smith, [The Flinch](https://www.amazon.com/Flinch-Julien-Smith-ebook/dp/B00NLJHGOA" target="_blank).
Have a great story to feature? Email us at [support@aftership.com](mailto:support@aftership.com?Subject=Customer%20Story" target="_top")