Partner News
AfterShip launches new product - Returns Center
"We believe AfterShip is more than shipment tracking."

—Andrew Chan, CMO and Co-founder of AfterShip
AfterShip is excited to announce the launch of [Returns Center on Shopify](http://apps.shopify.com/returns-center-by-aftership/" target=_"blank). The new free app will help thousands of retailers manage and track their returns packages with 380+ couriers worldwide.
Returns Center by AfterShip will automate the complete returns process, helping online retailers to deliver a better post-purchase experience and turn frustrated one-time shoppers into lifelong customers.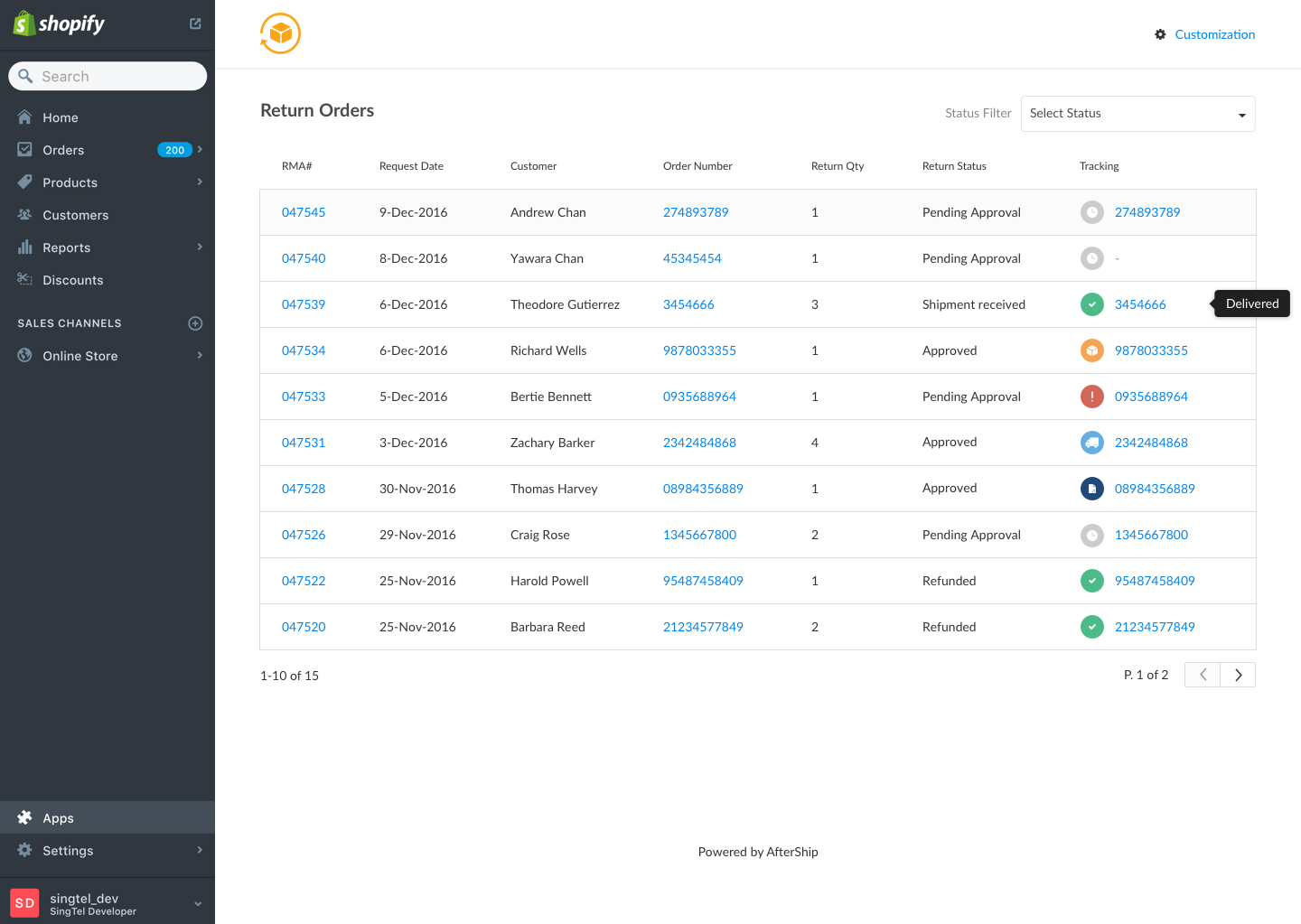 Why Returns Center?
The sad truth about returns
Having an automated returns process is important for online retailers. According to [InternetRetailer.com](https://www.internetretailer.com/2015/08/03/keeping-returns-check/" target=_"blank), returns rate could reach as high as 40% of sales during the holiday seasons.
Over 50% of customers are looking for a hassle-free "no questions asked" returns policy when it comes to the best returns experience, based on the [UPS research](https://pressroom.ups.com/assets/pdf/2016_UPS_Pulse of the Online Shopper_executive summary_final.pdf/" target=_"blank) in 2016.
First feedback from Shopify merchants
Late last year, we sent a quick form to some Shopify merchants using AfterShip and asked them how did they feel about returns in general.
While tasks like 'explaining the return policy' or 'guiding customers to ship return items' seemed easy for merchants, things got more complicated when they had to deal with returns tracking and inspecting the returned items.
This confirmed two assumptions:
managing returns takes too much time
automation is the solution in the long run
How does Returns Center work—a step-by-step guide
Install first our new free app [here](http://http://apps.shopify.com/returns-center-by-aftership/" target=_"blank), and then update your 'Return policy and instructions' within Returns Center.
Then you need to add your new Returns Center into your online store.
All you have to do at this stage is copy the URL of your Returns Center, go to "Navigation", click on "Add menu item", type "Returns", select web address, and paste the link provided. Save your menu.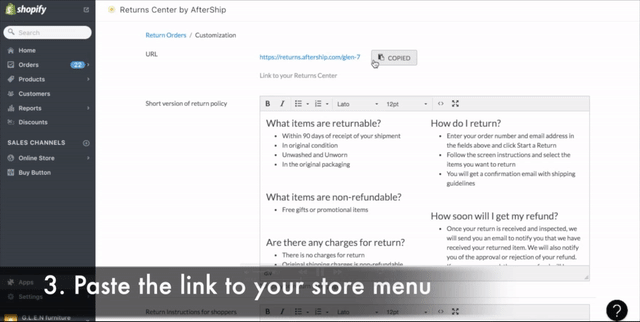 Congrats! Now your customers can request returns from your new Returns Center.
You'll notice on your online store, a new page called 'Returns'. To request a return, customers simply have to go to that page and provide their email address and order number. Then they can go on to specifying the return item and their reason.
Once they do this, you will receive the return request and choose whether you accept the return or cancel it.
With the request, Returns Center automatically generate a RMA (Return Merchandise Authorization) and send an email to your customer—whether you accept or decline the return.
If you accept, we will send your return instructions—the ones you provided when you set up the app—to your customer. She / he will have the option to add the tracking number received from the courier when she / he is shipping the return item.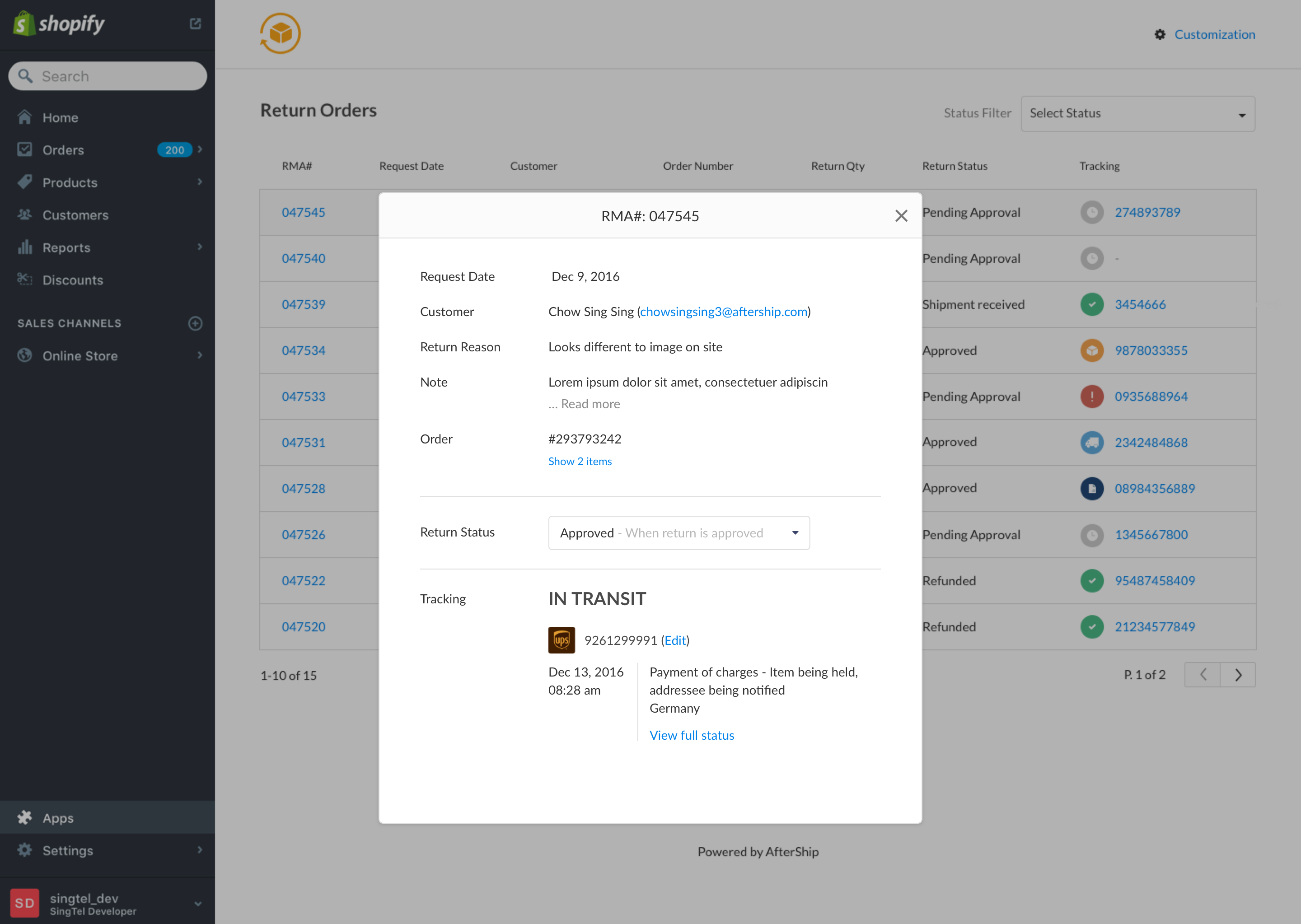 Once she / he adds the tracking number, both you and your customer will be in the loop during the return tracking thanks to AfterShip technology.
Retailers can see the latest shipment statuses and receive delivery notifications to ensure faster refunds after shipments are delivered.
We can track returns with 380+ couriers all over the world. Returns Center by AfterShip is free, and it only takes 2 minutes to add your Returns Center into your Shopify store.
More features are coming soon, such as the possibility for the merchant to generate pre-paid shipping labels, or have your own customised returns URL.
Our mission is to provide online merchants of any size the same post-purchase tools Amazon or Alibaba has"

—Andrew Chan
Install Returns Center by AfterShip via the Shopify app store [here]((http://http://apps.shopify.com/returns-center-by-aftership/" target=_"blank)