Partner News
AfterShip new features: Customer reviews, mobile tracking app and more
The post-sales customer experience, often overlooked by eCommerce merchants, determines whether or not the first purchase is converted to repurchase. AfterShip enhances the post-purchase customer experience with real-time updates via email, SMS, and Facebook Messenger. You can also add an order lookup widget to your store for hassle-free package tracking.
Not just that, you can create post-purchase sales opportunities by adding marketing assets and product recommendations to the branded tracking page. AfterShip has added three new features to help you acquire free traffic and boost customer satisfaction.
Leverage customer reviews to enhance eCommerce logistics
At the heart of every successful eCommerce business lies an optimized hassle-free shipping experience. Do you know? 81% of customers are more likely to repeat business with eCommerce stores that offer a smooth-sailing shipping experience.
You can now collect customer reviews for delivered shipments from the AfterShip branded tracking page.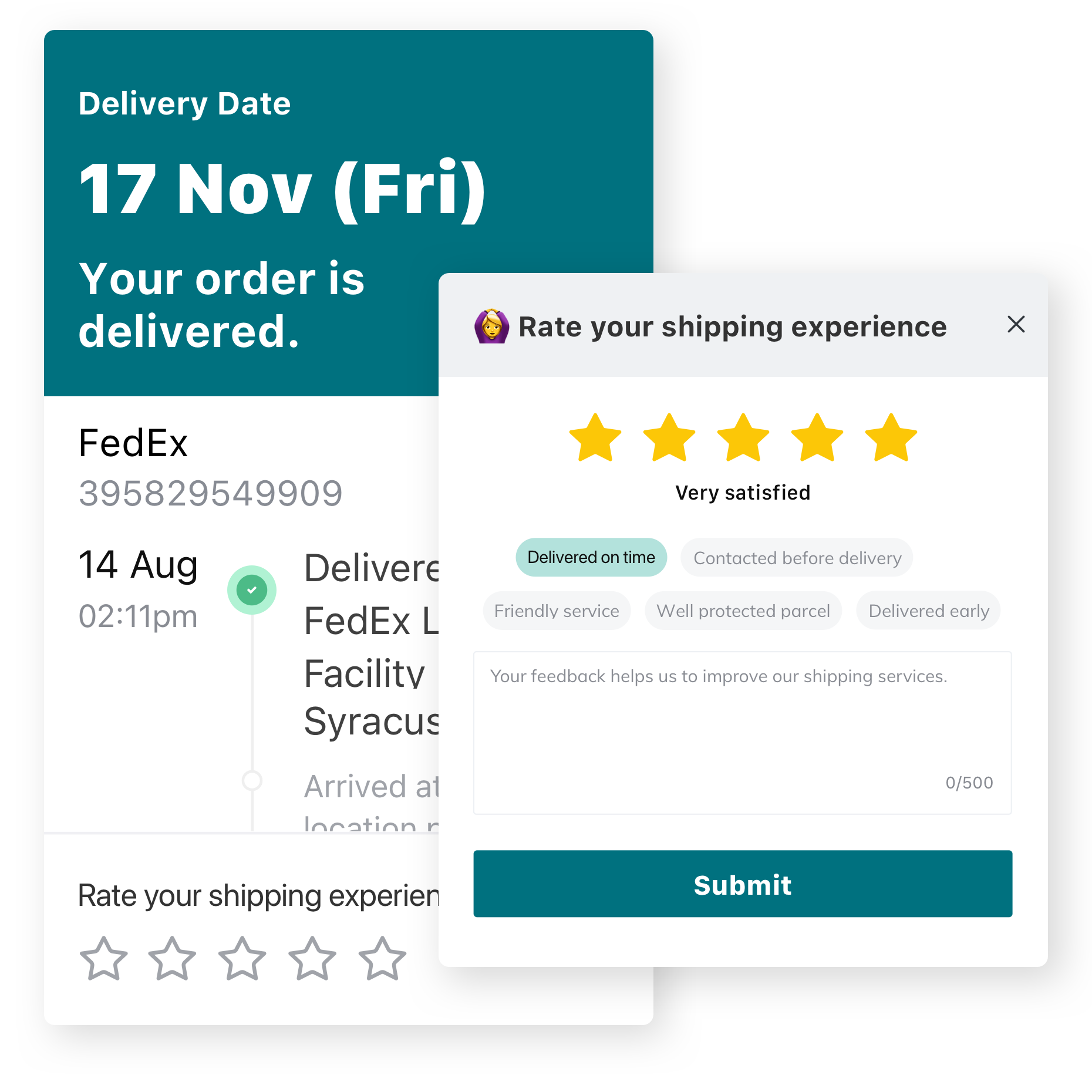 AfterShip "Customer reviews" feature benefits are multifold.
Boost customer satisfaction: find out what isn't working for customers and improve those aspects of your package delivery processes.
Build a loyal customer base: make customers feel valued by working upon their feedback and nurture long-term customer relationships.
Reduce future delivery incidents: determine frequent service issues and fix them to delight your customers with the best online shopping experience.
Accelerate repeat purchases: customers are bound to make purchases from your store if they feel a personal connection with the brand.
Measure customer satisfaction with AfterShip analytics
Optimize shipping processes with an in-depth study of customer feedback data through AfterShip Customer reviews analytics.  Get a breakdown of customer ratings by stars, view factors that draw customers to your online store time and again, and make better business decisions by improving upon areas that lack proper expertise.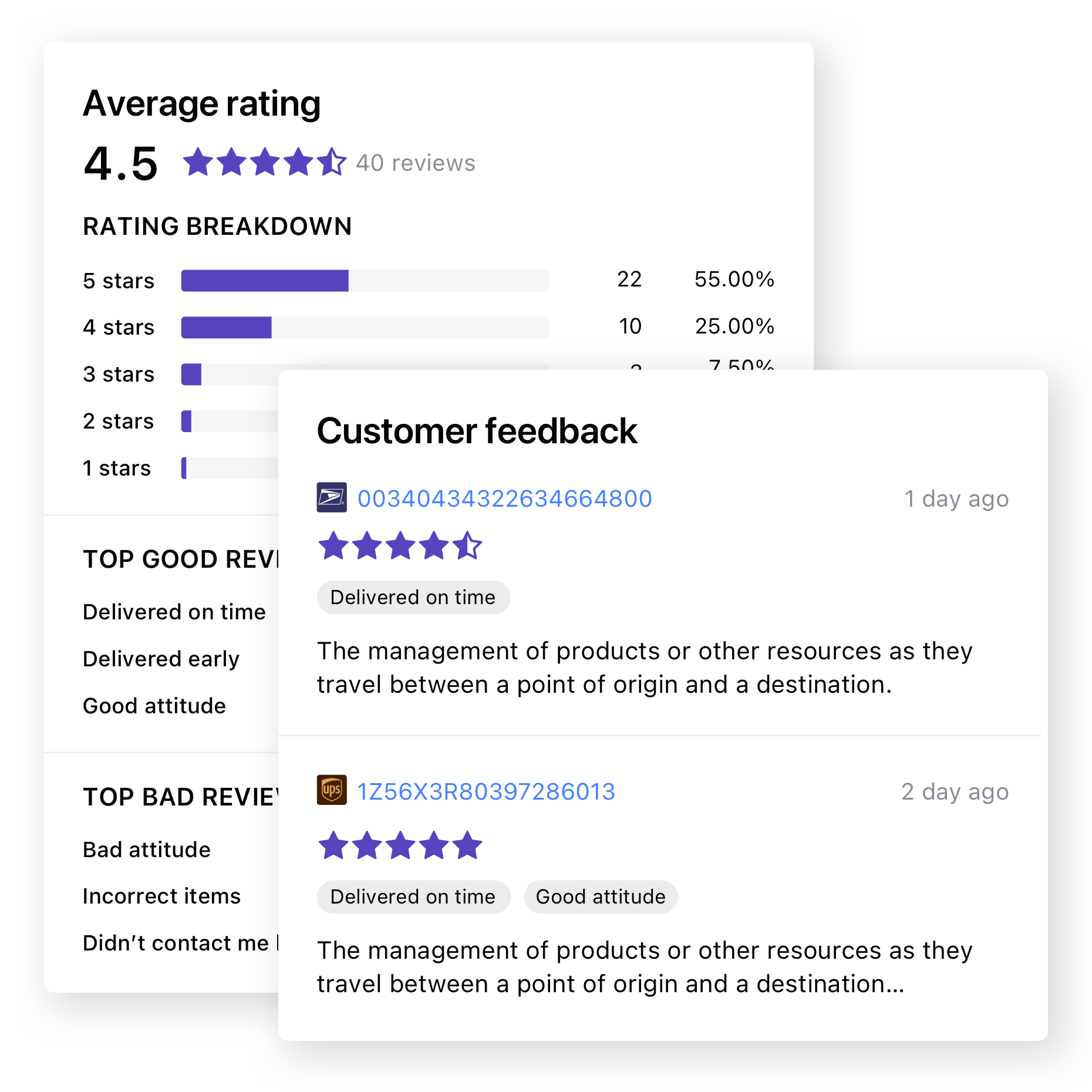 How to enable the feature?
You can enable the feature in just a few simple steps. Check out the gif to see how.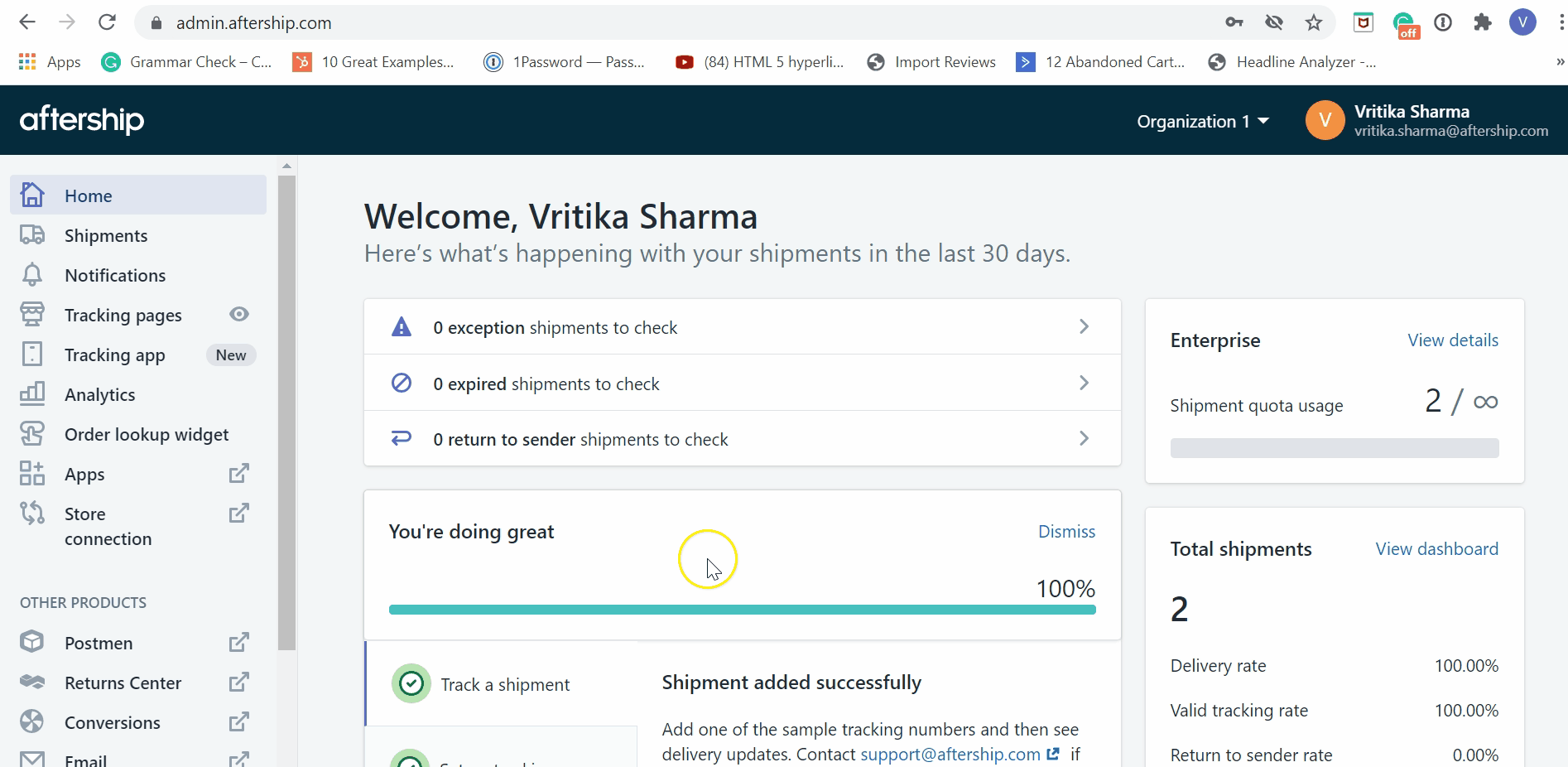 Generate free traffic for Shopify stores with the AfterShip tracking app
It is a no-brainer that high-quality traffic helps you rank higher on Google. One of the most important sales boost strategies? Generating relevant traffic for your Shopify store.
Enable branded order tracking with the AfterShip package tracker app to shoot-up SEO rankings and grow Shopify store revenue. AfterShip tracking app has till now been installed by over 4.7 million shoppers.
How do you benefit from it?
Deliver an on-brand tracking experience: direct customers to your Shopify store instead of going to the courier website.
Effortless order tracking: enable customers to track orders right from the moment an order is placed till it is delivered easily through their mobile phones.
Become SEO friendly: acquire quality traffic and rank higher on search engines like Mozilla, Firefox, Google, and Bing.
How to enable the feature?
Once you enable the "Track with AfterShip" button, shoppers will see it on the Shopify confirmation page after placing orders.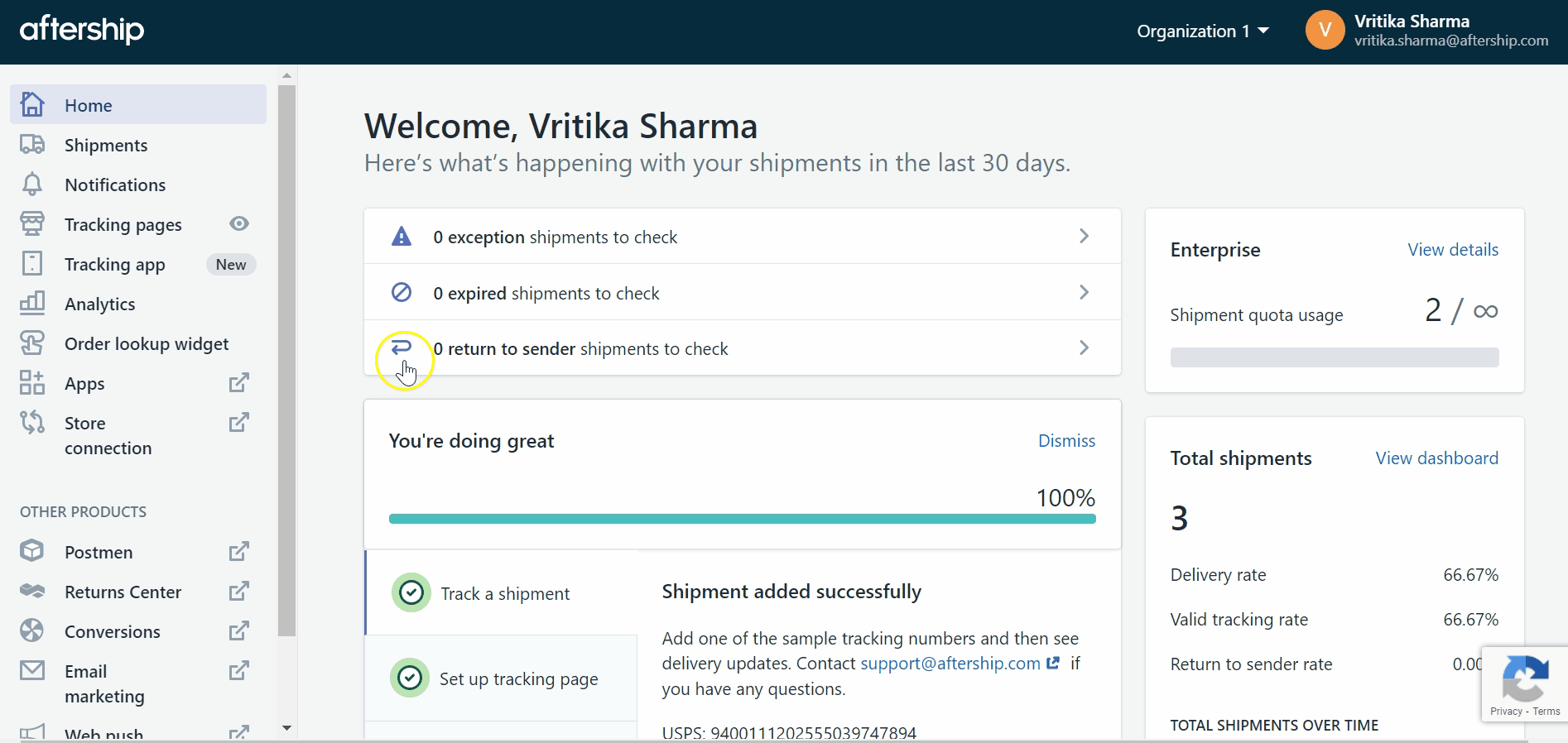 Here's how the AfterShip package tracker app looks.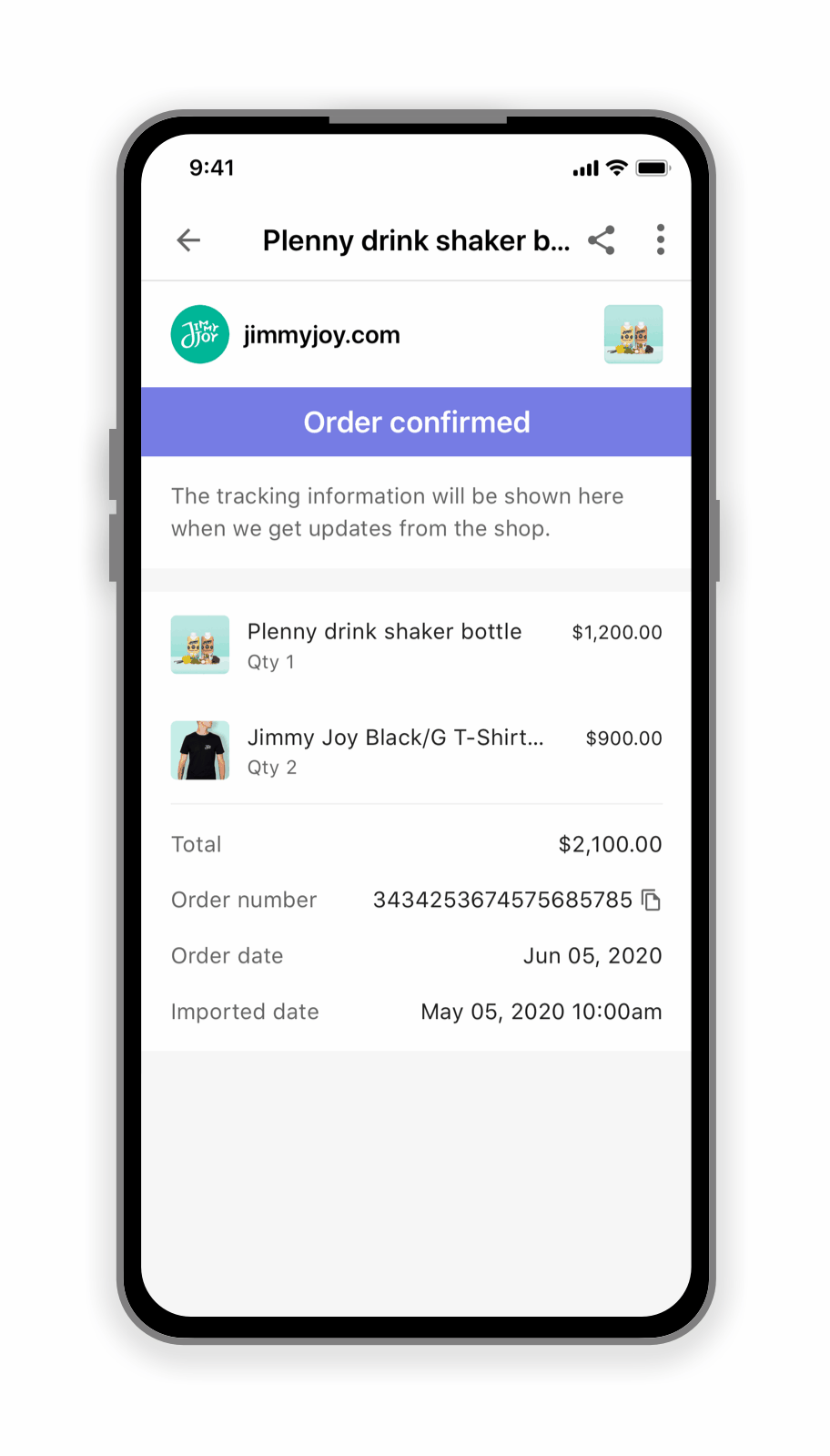 Remove AfterShip Branding
AfterShip users subscribed to a paid plan can now remove the "Powered by AfterShip" attribution and deliver a branded tracking experience to customers.
How do you benefit from it?
Extend your post-purchase brand story
Boost brand recognition and credibility
Foster repeat purchases by building brand loyalty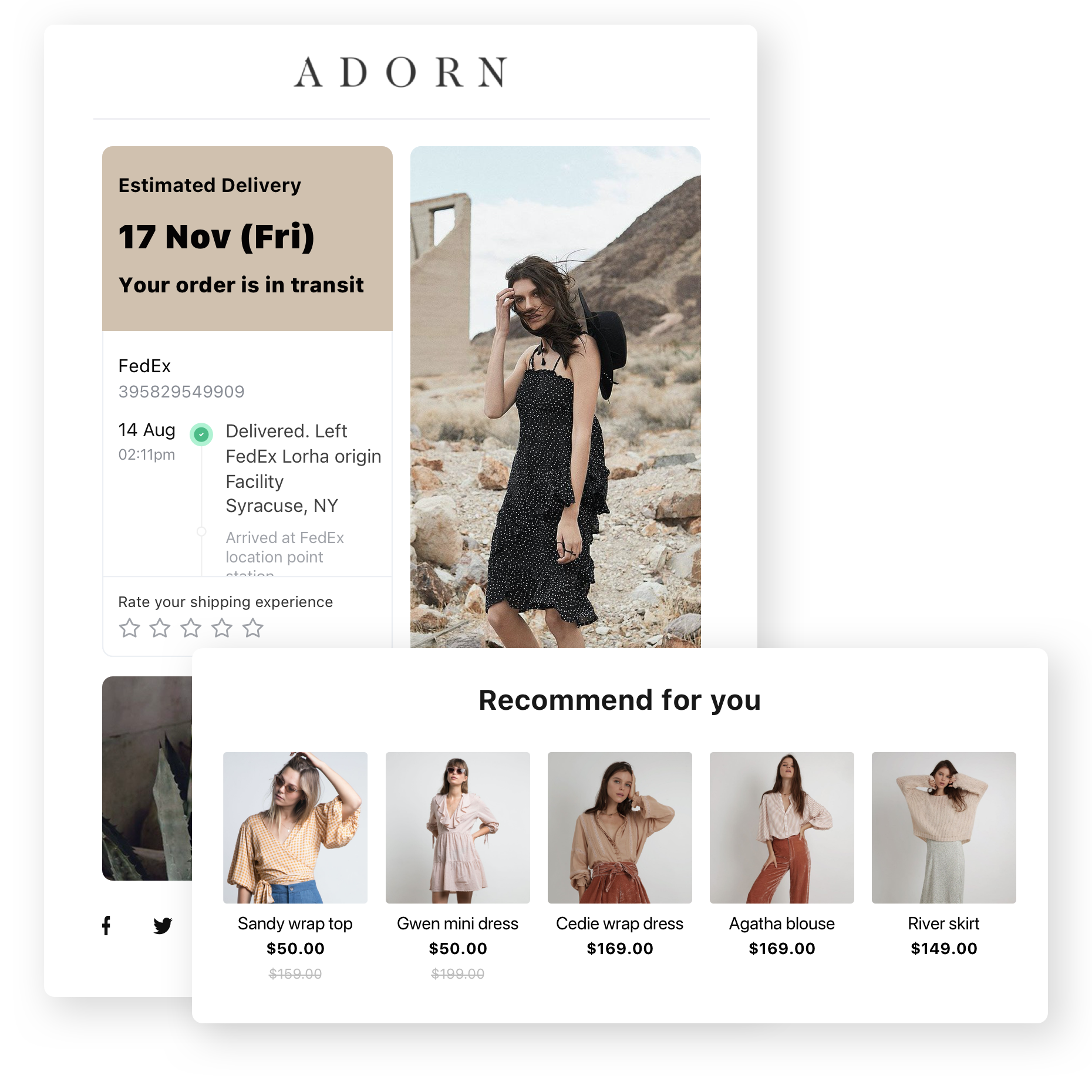 Upgrade your plan now to remove AfterShip branding. View pricing.