Partner News
5 Reasons To Join an Online eCommerce Group (and Which One To Pick)
You've chosen the hard entrepreneurial path. It's a long and lonely road yet you'd rather hustle 24/7 than slave 9-to-5. You want your own freedom. You want to belong to "The Entrepreneur Club". Among the ones who don't fit. The ones who make things happen on their own terms.
Your family might not approve your decision. Your friends are skeptical. What remains is you. Searching for the right strategy to increase traffic to your eCommerce website. Looking for the best tactic to convert on your Facebook ads.
You're alone and you realise you can't do it all on your own.
You need advice, examples and you need to share what's happening right now. Where to look? What to do? Don't worry, there are plenty of communities online where you can find the support needed. We share below the best online communities to join as an eCommerce entrepreneur and why doing so can dramatically change the course of your eCommerce store.
Why you should join either one of these groups (and be active in it)
Before we introduce you the groups to join, now is a good time to understand why you should jump in.
It's easier to get in the pool when there's already plenty of people swimming in.
1) Peer Effect
You're not alone anymore. Now you've got hundreds of entrepreneurs who took the same journey you chose. You'll find problems you can relate to, interesting conversations, and a brilliant way to contribute and help out. One quick tip we can share is when you join, introduce yourself right away. Tell who you are, what you are doing and why, as well as your pain points, if any.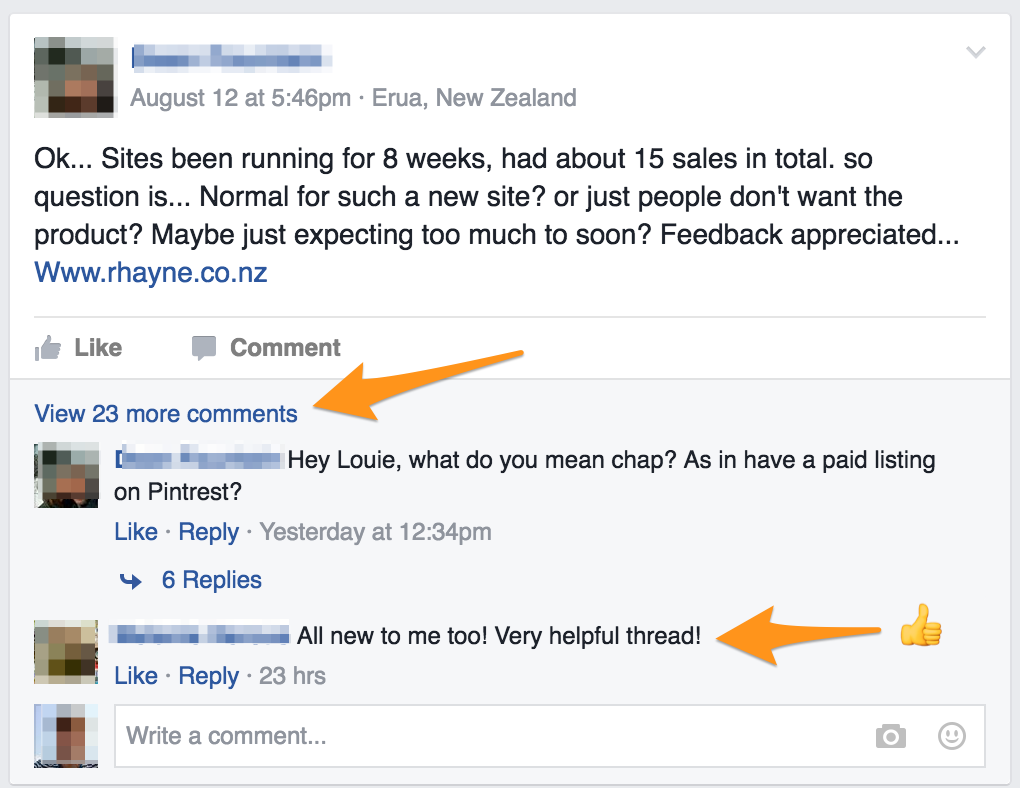 2) Mutual Help
Members of these groups are generous and want to help. You're happier when you help. Scientific research provides compelling data to support this. These groups are full of altruism and whether you give or receive, you'll find it pleasurable.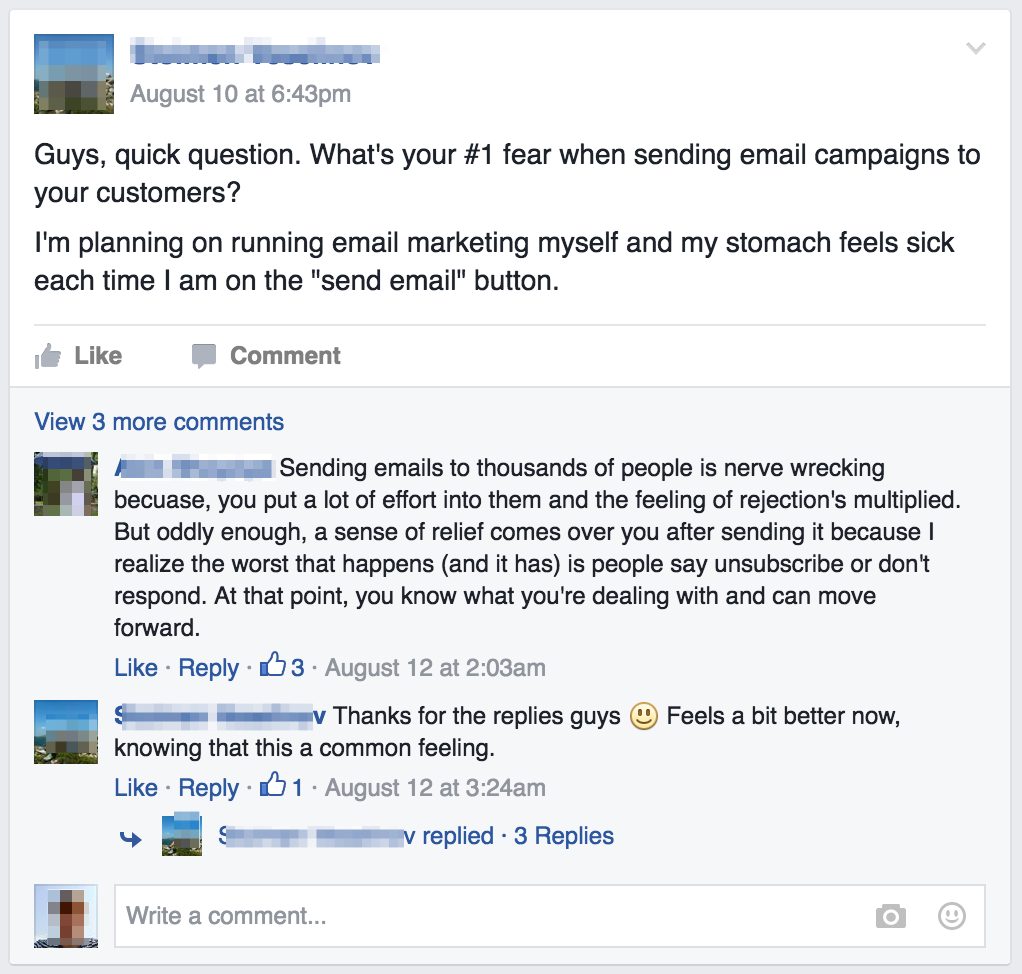 3) Learn From Each Other
Tactics, news, content. Sometimes, there's just too much noise out there. You can rely on these groups and its members to get only the best. New apps to try, new tactics to convert more, etc.
Thinking of a new idea? Validate it first among your peers just like in the example below: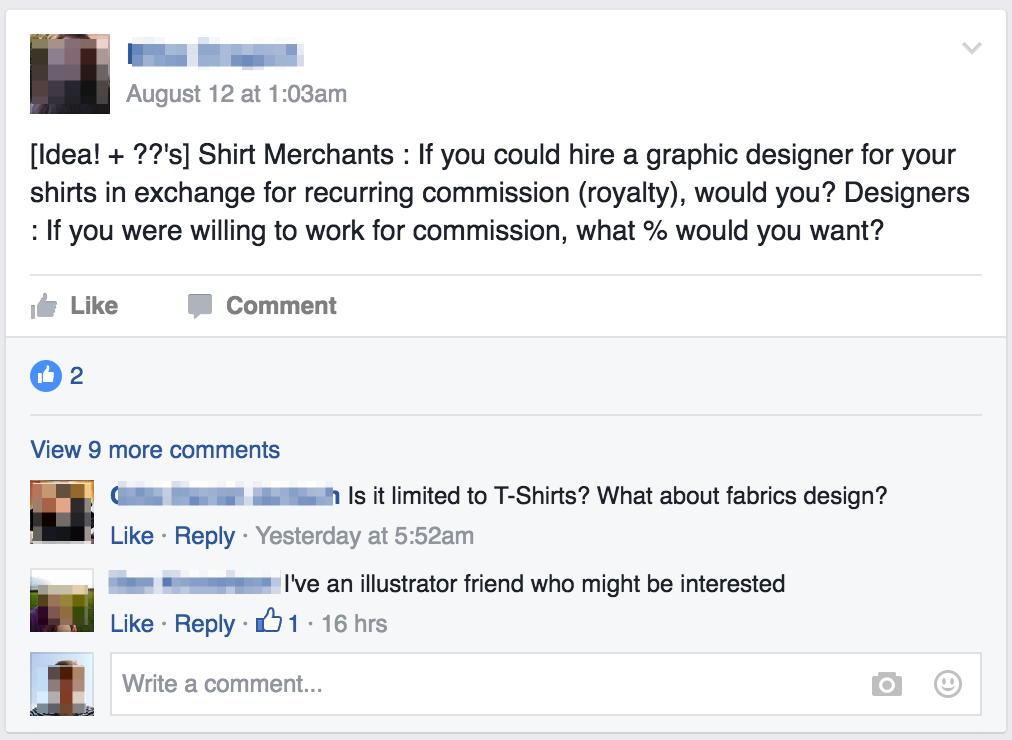 4) More Connections
Imagine you need someone to help you with your SEO? Or a designer? The connections you are making in these groups help you make better choices. And along the way, making new friends .
5) Being Accountable
Once you help someone or receive help, you're accountable of something. It makes it much easier to do the work and keep moving forward when you involve someone. You can ask for feedback, and you can share the final result.
Which Online eCommerce Group I Should Pick?
You can start with one of these three groups. Or all of them. One is Shopify only while the other one is open for any eCommerce platforms. The last one is a private community for "6 and 7 figures store owners". Depending on your size, your eCommerce platform and your profile, you've got the options open.
1) Shopify Entrepreneurs by Jonathan Kennedy - [HeyCarson](https://heycarson.com/" target="_blank")
Available on Facebook, the team at Carson moderate this group. They reached 14,800 members. The group is full of resources and advices between Shopify experts and struggling entrepreneurs. It's a closed group, meaning you have to ask before joining.
Join [here](https://www.facebook.com/groups/shopifyentrepreneurs/" target=_blank")
2) eCommerce Entrepreneurs by Richard Lazzarezza - [A Better Lemonade Stand](https://www.abetterlemonadestand.com/" target=_blank")
This group is a bit different from the previous one because it's not focused only on Shopify. If you're selling on WooCommerce, Magento, or any other platforms, feel free to join. 5,000 members of this group are asking questions about SEO, order fulfillment, Facebook ads etc. Same as above, you have to ask before joining.
Join [here](https://www.facebook.com/groups/ABetterLemonadeStand/" target=_blank")
3/ eCommerceFuel by Andrew Youderian - [eCommerceFuel](http://www.ecommercefuel.com/" target=_blank")
eCommerce Fuel runs a private group that stands apart for two reasons. It's the whole idea behind the brand, and two, they accept only big stores. It means you have to follow their guidelines [here](http://www.ecommercefuel.com/ecommerce-forum-2/" target=_blank") and prove you know what you're talking about. They filter their members which proves to be a success in the long-run. Plus, no vendors are allowed on the platform. And they seem to have a lot of fun (see the from their website)

Over to you
You're an eCommerce entrepreneur and still not active on these groups? Then you are missing out.
Being part of a private online community makes you feel less lonely and more valuable. It's good for the morale and you can learn tons of actionable insights. You can give back too and share your success while teaching. Overall, you're happier and you set yourself in the right direction for success!